Intermediate & Advanced
Through the years I have found that intermediate and advanced players have similar issues with their advancement on guitar. Some of those issues are –
Many players try to teach themselves
It is common at this stage for players to try to go it alone. It is not much fun and also a very difficult task to teach yourself how to play an instrument such as the guitar or bass. It is much easier, a lot quicker, and a lot more fun to join in lessons with other experienced students and an expert teacher. Stop wasting time teaching yourself, we can help you get to where you want to be in record time. Brendan is a typical example...
Brandon Leatham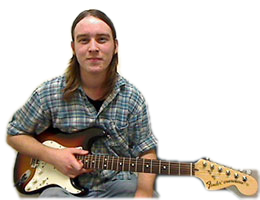 When I first met Kevin I was self taught pretty much, with a few people showing me this or that. I was stuck in a musical rut. After a couple of months of solid tuition with Kevin's school I felt an exponential increase in my musical ability.
The lessons have helped in every way possible. There is a lot more to being a musician than just playing an instrument and Kevin's team teach it like real pros, skills like reading, improvising, jamming, playing gigs and getting up there in the music business are all important too. Kevin is not just a guitar teacher, he is a music mentor. Always willing to help and never selfish with his incredible amount of knowledge.
Information overload
Many players think that watching YouTube or visiting other internet sites is going to help them become better players, but soon you find it only makes you worse? Do you relate to that? If you do it is because you are suffering from information overload. Many players at this level already have some good skills, but just do not know how to tie it all together and make it work for them. Our Dream Team can help you here, it is so easily fixed.
Not knowing how to practice and make good use of your time
This would have to be one of the areas that most guitarists stumble. Is that you? Do you know what to practice? How much to practice? There is a lot to working out a real good practice schedule for you. When you study with us we will set you a practice schedule that is fun to stick to and you will feel yourself advancing quickly. By the way – I have written a book on this subject, you can see it here.. Here Inga tells of her experiences...
Inga Hope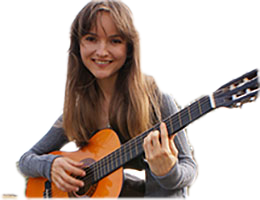 I was mostly self taught after a negative experience with a teacher when I was in my early teens and I was not progressing with that teacher, and also felt like I had no talent for guitar.
I have had lessons with Kevin a little over a year. With him I have learned about the power of successful practicing and now feel like I am in control of my progress. At the same time I also learned that you need a mentor no matter what level you are at. A mentor is very much like a friend (with top qualifications) that points you in the right direction and helps you see and fix mistakes that you can easily overlook.
Have you outlived your current teacher?
Many teachers only teach learners and before long you might have outgrown your present teacher. It will be time to change if that is the case. If you are not sure if it is time to change you can phone us for an appraisal of your requirements and needs. It is at this level you don't need a teacher so much, but you begin to need a trainer, coach, or maybe even a mentor. There are very few trainers, coaches, and mentors for guitar and bass players around – We are one of the few. In the following testimonial Dawn tells of what it is like to have expert advice...
Dawn McKenzie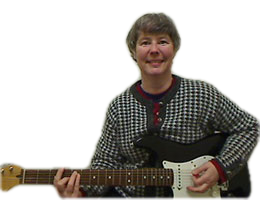 My lessons with Kevin and the Dream Team have unlocked an amazing ever-expanding world of music, and Kevin is like having a personal coach, mentor and friend. He can see the bigger picture and encourages me to excel.
Kevin and the team have the skills to help you achieve your music goals. They were brave enough to take me on as a student even though I had been floundering around for years. Take your music dreams along to them, they will be respected and nurtured.
You need help with specific areas of your playing or knowledge
You might have some good guitar playing skills already, but lack in other areas like soloing, phrasing, improvisation, building a repertoire, ear skills, song-writing, theory, music reading, arranging, recording, performing, etc. Is this you? We will help you quickly assess what you need to work on and then get you started on the right track.
Have you got many questions you need answered, but no one to turn to for help?
Many guitar players listen to advice from their friends and family, or the internet. Unfortunately, your friends and family might be trying to help you to the best of their ability, but they most probably don't have the experience needed to guide you through the maize of things you need to do and understand to get started.  The internet is also a bad place because web pages don't understand what it is you want to achieve, or can give you feedback on your progress.
If you want to get started in the music business or want to attend a music course at university, then you will need the help of someone who has the knowledge of how it all works. We have that knowledge and can steer you in the right direction, as we have done for many others.
Not many teachers teach at the intermediate and advanced levels with much success. We will tailor a program just for you that meets your current requirements and tastes in music.
Brenda Pinfold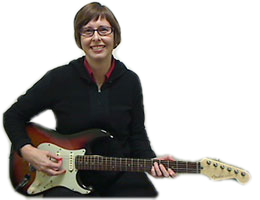 After a local music store gave me Kevin's business card I checked out his informative website. I then contacted Kevin's school and was impressed with the time he spent explaining things and the interest he showed in me.
I started playing as a teenager with firstly modern music, then moved onto classical guitar, and then bought an electric guitar. I went through several teachers, due to them retiring from music teaching, leaving the district, and not being skilled enough to take me further.
I have been to a lot of seminars and workshops Kevin has organized and have met some amazing performers, both national and international, but it is The 101 Lab Band that gives me a purpose. I couldn't believe the great sound we made the first time I played in the band. It still amazes me how often a new song can sound so good the first time we play it together. Amazing opportunities are opening up for me due to Kevin's contacts throughout the world and the hard work he puts in to us. I have found some wonderful friends in the band, but the biggest thing is now I am able to live the dream of performing. My family has been extremely supportive and excited by my performing, so Thank you Kevin and the Dream Team for this opportunity.
They work from a variety of material and tailor the lessons to your specific interests so it doesn't get boring. It is fun sharing the experience, especially when you are with someone of equal experience and it gives you the confidence to call others for practice sessions.
The teachers are very patient, supportive, and positive. You always go away from lessons feeling good about your achievements and wanting to practice the new work. Kevin and the Dream Team really have got the tools and expertise to make you a great guitarist.
What do I do now?
Do you want to be like those students in the testimonials? If so, give us a call on (06) 357 0057 and we can give you some FREE advice, discuss why we are different to all the other teachers, advise you on your lesson options, and how we can make your guitar playing a success story you will be proud of? Or if you prefer – fill in the form here