Learner
It is important if you are picking up the instrument for the first time or in the beginning stages to get together with someone who is experienced in teaching beginners. It is this phase of playing that is the most critical, because it is here that over 95% of beginning players quit. They quit because they don't know who to turn to for help or how to get started. I have the experience and know how to quickly get you playing all the things you are dreaming about right now. By the way, if you are just starting, I can have you playing your first songs on the second lesson.
In the beginning phase you will have many questions to ask because you don't know much about learning guitar or music in general. I will take the time to answer all your questions and explain the big picture to you so you fully understand.
Some people think they can teach themselves, but it is a very difficult task indeed to teach yourself how to play an instrument such as the guitar. After all, how can you teach yourself something you know nothing about? It is much easier and a lot more fun to have lessons with a teacher such as myself.
Xavier Wratten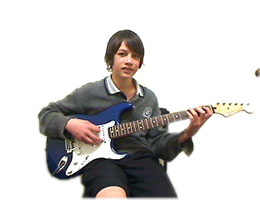 My Mum found out about Kevin through word of mouth and his website. I was interested in playing the guitar and I enjoyed playing it but I didn't really know how. My Dad got me started, but after beginning with Kevin he has really helped improve my playing. I can now read notes and my fingers are now really flexible and strong to move up and down the guitar easily. I play fluently now and feel confident playing.
One thing in the lessons that helped a lot was when I broke my arm and couldn't play, Kevin gave me a theory book and taught me all the names of the notes and what they looked like, which made it so easy, so when I went back to play the guitar and I could read music!! I could still learn without actually having to play.
At 12 years of age I am the youngest person in Kevin's 101 Lab Band and I think it is heaps of fun. I get to play with other people and that makes playing a lot more fun and exciting. We play more songs and I get to play solo's. I like listening to other peoples solo's as I learn a lot from those that are more advanced than me. Being in the 101 Lab Band has improved my playing and my timing as playing in a group this is really important - this is really different to if I was playing on my own. I have learnt about performing on stage and if you make a mistake you just improvise over it, and you never know it might even sound better than what it was suppose to. I still feel nervous on stage performing, but the audience is grateful and we are just playing to them.
I would say that taking lessons with Kevin is a great thing to do if you want to be fantastic. You need to be motivated and put the time and effort in, and then you get the rewards. Kevin is awesome, the lessons are so much better than I could ever get at school, he is patient, he takes his time to know what I need and teaches me in a way that I need.
Many beginning players think that watching YouTube or visiting other internet sites is going to help them become better players, but it only makes you worse? Do you relate to that? If you do it is because you are suffering from information overload. If you are suffering from this condition, I can help you, it is easily fixed.
Do you know where to turn to for advice? Many beginning guitar players listen to advice from their friends and family. Unfortunately, your friends and family might be trying to help you to the best of their ability, but they most probably don't have the guitar teaching experience needed to guide through the maze of things you need to do and understand to get started.
Talei Smith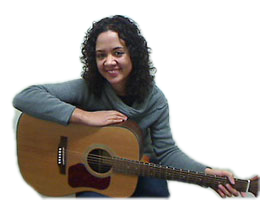 I decided to take lessons with Kevin because it sounded like he took a range of students, in both ability and age, and I liked the fact that he had as much experience as he did. Since having lessons with Kevin for over a year now I've learnt so much about music performance and theory. I came from a culturally strong singing background but with not a lot of confidence around instruments. Kevin showed me how to develop my confidence and how to be involved in all aspects of music, especially the instrumental side. I wouldn't otherwise think I had the ability to be involved in it.
Studying music with Kevin is very rewarding. He is always encouraging and sensitive to your personal circumstances. He is very supportive of your musical interests and passions and is able to respond to your individual learning needs and long term goals in music.
Sam Bond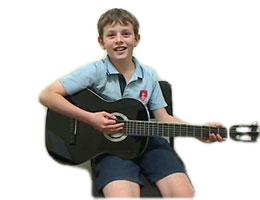 In the words of Sam's mother Andrea - We were recommended Kevin as a very good guitar teacher by the teacher Sam had as a beginner. After talking with Kevin we felt that he had the passion and enthusiasm to teach and inspire Sam as a young budding guitar player and to keep him interested and enthusiastic to do his practice at home.
Sam has been having lessons with Kevin for about 3 months now and is very keen to continue. Sam enjoys learning to play the guitar with Kevin and has improved immensely in the short time he has been going. Kevin's teaching style and positive encouragement have boosted Sam's confidence and overall passion for wanting to learn.
Anyone wanting to learn (or their child to learn) guitar, we think would be very happy with Kevin as he makes each lesson enjoyable, uses music that is well known and the improvement we have seen in Sam's playing came right from the first class. Most important though is that Sam is really happy and looks forward to his lesson each week.
Do you want to be like the others in the testimonials? You can be - give me a call now on (06) 357 0057 and I can give you some FREE advice, discuss with you why I am different to all the other teachers, advise you on your lesson options, and how I can make your guitar playing a success story you will be proud of? Or if you prefer – fill in the form here