Professional Players
Not many guitarists make it to this level, mainly because they have not got someone they can trust who is already in the industry doing well to teach, train, coach, and mentor them. This is the level I love working at. Many guitarists at this level want to come and study with me to specifically work on one or two areas of their guitar playing or other music related skills. It could be playing new musical styles, soloing, theory, song-writing, arranging, repertoire, piano/keyboard skills (yes, it does pay to play piano/keyboards at this level), recording, and performing skills, among many others. Today a professional musician has to be multi- skilled - which is why a lot of seemingly talented people get nowhere – because they only have one or two skills.
I have taught many students at the advanced or professional level who have gone on to do amazing things. For example two of our students, Simon Bowden and Charlotte Yates, have won their respective categories at the New Zealand Music Awards.
At this level you will learn a lot of things students learn at university level courses and beyond without the need to go there. You might have plenty of recording, touring, and industry experience, but there is always plenty more to learn to expand your knowledge base and therefor your income.
Phil Hartshorn – musician, guitar teacher
I have been studying with Kevin for many years and I hope it goes on as it has been a huge experience. I was a self-taught player for many years and didn't know what I was doing. I had no idea of basic techniques or ideas of being a musician and with Kevin's expertise I can now read music up to a high level and have gained a lot of knowledge. The most important thing about learning was learning to read music at the beginning.
My advice is to find a teacher that teaches you to read real music, not tab. Also, don't look for the cheapest teacher it is more cost effective to get a great teacher who charges a little more. Music is a long-term passion and it grows with a good teacher who is teaching you how to do it properly. A good teacher will also teach you how to practise properly and how to achieve and handle success.
I used to be a school teacher and now – thanks to Kevin Downing - a full time guitar teacher and performing musician based in Dunedin, New Zealand. My life has changed in so many ways – I am now living the life I always wanted to thanks to Kevin.
Inga Hope - singer, songwriter, recording artist.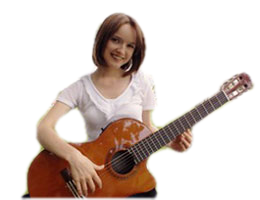 Kevin has life experience and insights that go beyond music. It is hard to explain - but there is a spiritual and intellectual aspect that makes working with Kevin very special.
His faith in my ability and hands-on practical guidance has made the difference between dreaming and living my dreams. I was on the verge of giving up music and Kevin brought it back to life! If I had to pick one thing that helped me the most - it would be learning how to practice efficiently and avoid "overwhelm".
Kevin is a world class guitar coach and mentor. He plays regularly with some of the world's top players and has coached many very successful guitarists, guitar teachers, and songwriters. If you have a chance to study with Kevin - grab it! It is a real honour, a source of inspiration, and the best investment you can make!
Lynne Smith - guitar teacher in Wanganui.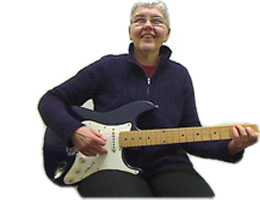 From day one I knew Kevin had a wealth of knowledge and experience to offer which highly motivated me and increased my thirst for learning. That began my [so far] 10 year association with him.
My personal guitar lessons with Kevin have made me more confident. I have learnt to play using the correct techniques which makes it easier. I can play pieces/songs I absolutely love which gives me great satisfaction and pleasure.
The single thing that the lessons with Kevin have helped the most would be his patience and clarity of instructions. His insistence on not rushing through anything, but developing in a measured and solid way. The workshops and seminars from visiting overseas professionals have helped confirm learning points and served as huge encouragement to keep going.
Kevin is approachable and is a very good listener. He gives of his best all the time and is 100% student focussed. He is encouraging and supportive at all times. I always feel inspired and motivated when I leave. Take the opportunity to experience how your musical knowledge and practical skills and sheer enjoyment from playing your guitar can be improved by someone who has so many years of playing, performing, teaching and writing behind him. You won't regret a minute! Ring him now!
When you are a professional musician you have concerns that are specific to you, so give me a call now on (06) 357 0057 or fill in the form here and I can give you some FREE advice, advise you on your lesson options, and how I can take your professional career to the next level.