Are You Struggling to Get Started on Guitar or Finding it Difficult Moving Up to the Next Level?
We can get you started quickly on the right track, or have you moving up to the next level quicker than you ever thought possible. 
Here are the reasons why - There are 9 common problem areas that hold most guitar players back and having just one of them will severely restrict your progress and cause you all sorts of problems.
Trying to teach yourself.
This is a common problem in the guitar world.  You might think that learning how to play guitar is easy enough so you can teach yourself.  Although it is a common perception that you can easily teach yourself, but that type of thinking is way off track and you will never be successful if you try.  After all, how can you teach yourself something you know nothing about?
You most probably already realise that teaching yourself is the quickest way to learn everything wrong, and there are a lot of things that you can easily get wrong when learning guitar.  Now when you begin to practice things wrong, you will really get good at doing things wrong.   Is that like you?  Or are you not sure?
All our teachers have spent years honing their craft and can spot problem areas in your playing immediately and help you fix them quickly.  You can really benefit from their vast experience.
Spending many hours playing and practicing your guitar and getting nowhere.
That is a normal experience if you haven't got a great teacher helping and guiding you through the maze of things you need to know. Many players that come to me for help tell me they were experiencing immense frustration practising and playing a lot, but only making very small improvements, if any.
Maybe you are only practicing your favourite things all the time, which gets you nowhere, instead of spending some quality time practicing for growth in your abilities?  Is that like you?
All our teachers can cut your practising time down to a minimum while you can really feel yourself making constant daily progress.
Having self-doubts about your playing abilities.
After a while with no or very small progress you will begin to doubt yourself, and ask yourself questions like, "Do I have natural talent?"  Or, "Do I have what it takes to play guitar?" At this stage many players like yourself will listen to those gremlins in their head and always answer, "No."  After that they normally quit, which is not why you started playing guitar in the first place.
It is only human to have self-doubts, but you don't have to.  A great teacher can get rid of all those self-doubts, so don't let those little gremlins in your head put you off.  Do you currently have any self-doubts about your guitar playing abilities?
All our teachers are experienced in helping you get rid of any self-doubt you might experience.
Not learning things in the correct order.
Yes, there is a correct order in which you need to learn things.  Get it wrong and you will not only be wasting your time, but you will be increasing your frustrations and limiting your progress ten-fold.  For example, your mental knowledge of the instrument and your musical knowledge must match your physical ability to do things on the instrument or everything will be out of kilter. A common example of this is jumping around all the lessons on YouTube and trying to learn things that are way over your head.
Are you learning things in the correct order, or maybe jumping around all the millions of lessons on YouTube?
All our teachers know the correct order in which you need to learn things to achieve your goals quicker than you ever thought possible.
Not knowing how to practice effectively.
This area is so massive that I have written a bestselling book on the subject.  Many guitar players waste time not practising effectively, and maybe you are one of them?  It is not your fault you don't know how to practice effectively, but it sure makes life easy and you accomplish a lot more when you do.
Do you know that all the top players have a practice schedule that they stick to and to help keep them on track?  Have you got one?
All our teachers will give you a thorough and complete practice schedule to follow at home.  These practice schedules change all the time, so you can increase your motivation and help get you along the track even quicker.
Not having a great teacher.
Not all guitar teachers are created equal.  In fact, most are below average, unqualified, and not interested in their student's musical growth at all.  As you have most probably learnt from your school or university years, most teachers are not of the "great" variety that really get you enthused, excited, and motivated about anything.
It is exactly the same in guitar teaching.  Get a bad teacher and they will set you back years, give you more frustration, and cost you a lot of wasted money and time.  Have you ever had a bad teacher?
All our guitar teachers have been carefully picked by me.  We don't just have anyone teaching here.  All our teachers are great people who have your interests at heart, and will keep you enthused, excited, and motivated.
Not knowing what natural talent is, or where it is hidden.
You will never discover the secrets to where your hidden natural talent is by yourself.  Even sports stars like the All Blacks can't do it.  They need great coaches to help them bring out their natural talent and develop it.  Guitar players are exactly like that to.  Only a great guitar teacher who is trained in developing talent can really help you here.
I have never met a person who hasn't got some natural talent within them and I am sure you are the same; it just needs developing and that is a specialty area of our school.   Would you like us to develop the natural talent you have?
All our teachers are trained to get that natural hidden talent out of you quickly.
Trying to learn from YouTube, books, DVDs, etc.
Just like an average guitar teacher won't have the skills to develop your talent, nor will books, DVDs, internet guitar lessons, or all that stuff on YouTube?  In fact all those things will not only hold you back, but you might be doing yourself a lot of harm in the process.
YouTube, books, and DVDs will never know what your goals are, be able to answer your questions, motivate you, guide you through the many areas of study, assign practice schedules, train you to master your studies, or coach you to be a great player.  Only a great guitar teacher can do that – notice I said "great", not good or average.
The trouble with all this information in books, DVDs, and the internet is that not much of it is quality information, and you can get overwhelmed by it all very quickly.   Are you overwhelmed by all the information out there, or maybe wasting your time on YouTube?
Just in case you have been affected by YouTube, books, and DVD's, or overwhelmed, all our teachers are trained for recognising the symptoms, and have the cure here for you.  I can assure you it is easily fixed.
Listening to what your friends or family tell you.
Unless your friends are great guitar teachers, their advice is most probably harming your progress in many ways.  They might mean well, but you need to follow the advice of someone who is well trained in getting results from their present guitar students and has a good track to prove it like we do.  Just see the testimonials page here.
Do you listen to the advice of your friends or family, instead of a great teacher?
All our teachers are trained to answer all the questions you may have about learning guitar.  There is also our student and teacher only forum which you can belong to and participate in.
There are many other common frustrating areas for guitar players, but those are the common ones.
If you answered "yes" to any one of those nine questions above, then you and me need to talk as soon as possible.
However, the good news is that fixing all the frustrations I have just mentioned, among many others, is the easiest part of our job.  This is what we are doing all day long and we are very good at it.  However, not all guitar players have all these frustrations as students and the earlier you begin lessons with us the less chance you have of falling into all those traps.
I can relate to all those frustrations I have just mentioned because I have experienced them all myself.  Yes, once upon a time my soloing wasn't great, nor were my rhythm guitar skills, in fact, there were many areas that I wasn't great at.  After the experience of many mediocre teachers I thought I would teach myself from books and tapes, as well – The internet and YouTube weren't around in those days.
It seemed like everyone around me was getting a lot better than me, but I never knew why.  It wasn't until I met my first really great teacher, Len Doran, in Wellington that things began to change very quickly.  Len taught a lot of the top players in the Wellington area, and from there everything took off and I have never looked back or been frustrated ever again.
Join the Free Newsletter
Join our mailing list and receive guitar playing tips, industry news, special deals on concert and seminar tickets, songs, and more. Just click on the "subscribe now" and receive the FREE report -
11 Mistakes Most People Make
When Choosing a
Guitar Teacher
PRIVACY: Your info is never shared with anyone else. Unsubscribe anytime.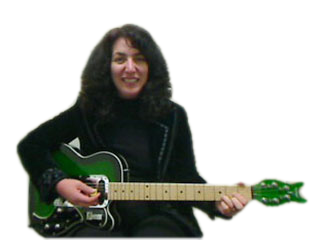 Kirsty Blair
"I have several friends who are past or current students of Kevin, and I really wanted to learn the best technique to get the most out of my time and money – so I went to the best.
Playing guitar is a huge investment in time and energy. You need to make the most of that to get the best out of it – and having a great teacher like Kevin is the best start."
Graham Lovejoy
The lessons with Kevin have met all my goals plus more and have helped me in many ways with my professional career. Teachers like Kevin are rare on a global scale. I like the way he breaks complicated things down and makes them easy to understand, which only comes from years of experience.
When things begin to go wrong most guitar players don't have anyone credible to ask questions and guide them in the right direction.
This is the time many players give up, but this is not what you wanted in the first place.  You wanted to be a great guitar player.  This is one reason why you see so many guitars in the second hand shops – people give up.
Many others realizing they are getting nowhere enrol with a teacher or school where they use the "one size fits all" approach.  Have you ever wondered why many students don't do well at public schools, or even hate it?  One size does not fit all – it is the worst system I can think of.
Here is how we do it at Kevin Downing's Guitar School:
First of all we get you to come in for a free evaluation and we ask you some easy questions so we can tailor your lessons to suit you – we don't tailor them to suit us, or anyone else, only you.  When your lessons begin we will hold your hand every step of the way so there are no frustrations, no hold ups, or other time wasting events.  You will go out the door after each lesson feeling really excited and confident about your achievements in the lessons.
We will teach you each lesson thoroughly so you understand it in full, train you to practice the lesson material at home by yourself, then coach you to be able to use it playing with your friends, and mentor you so you get results fast.
Also, there is our student online forum where you can get instant access, information, and ask questions on many things not discussed within the lessons.  All our teachers monitor the forum everyday so you have access to your teacher constantly.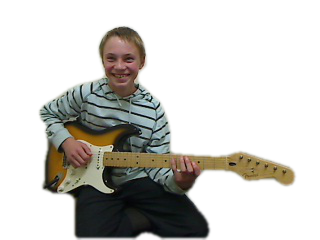 Jacob Pritchard
"After 1½ years of lessons with Kevin he has helped me learn to read music, filled in the gaps where I had missed things, helped me with my parts for the school band, helped me with my soloing, and helped me win "The Best Guitarist Award" at the Manawatu Jazz and Blues Festival for the last two years."
Our teachers are the best in the business.
After spending most of my life being a professional guitar player, I know what it takes to be a great player, and I will get you there fast as well.  Many students don't realize that it doesn't take much extra effort to play like a professional.  Whether you want to be a professional or not, it sure feels great when you can play at that level.
Now just imagine if ...
Imagine if you had the best teacher in town helping you bring out your natural talent that you already have?
Imagine if you could stop wasting time on lessons that don't work?
Imagine if you could eliminate all self-doubts and other things holding you back?
Imagine if you could learn to practice effectively so you get massive results every time you practice?
Imagine if you could get rid of all your struggles and frustrations within minutes?
Imagine if you could play with your friends, or in a jam session with real confidence?
Imagine if you could play like a real professional level player?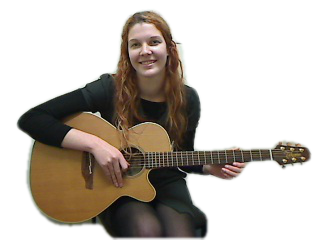 Melissa Thake
"I have had a few guitar teachers over the years. I found that what I was taught didn't really prepare me for the "real world" of music. Kevin has been good in helping me to clearly understand things and has taught me to be able to apply my skills in the real world."
What you get at Kevin Downing's Guitar School is:
Proven master teachers with great track records so that you will learn quicker and more efficiently
Lesson plans tailored to your interests and goals so that you have a lot more fun
Quick results so that you save yourself a lot of wasted time, frustration, and money
The latest teaching methods using real songs of your favourite artists
Clean, safe, distraction free, safe, and professional music studio so you learn a lot quicker
Video and audio recordings to track your progress or record your songs
Kevin's "Professional Tricks of the Trade" that you won't learn anywhere else
All levels taught from beginner to professional level so there is no need to change teachers or schools
All modern styles taught – rock, blues, jazz, metal, heavy, progressive, alternative, fingerstyle, etc.
Seminars & workshops taken by us and by some of the world's best players like Mike Stern, Robben Ford, Chris Cain, Bruce Forman, etc.
You can join the jam sessions so you can learn to play with your friends
You can join the performance groups if you want to learn more advanced performing skills
Our own private student forum where you can link up with other like minded students 24/7/365.  This forum is also monitored by all our teachers daily
Lessons available 24 hours a day, 7 days a week - great for shift workers
The best value for money guitar lessons in New Zealand
A musical experience that you won't get anywhere else
We don't do anything else except teach guitar – that is why we are the best
Call us now at (06) 357-0057 or click the button below
to book your free introductory guitar lesson
or assessment of your abilities
P.S. Don't wait or procrastinate – contact us NOW
Click the orange button above or phone (06) 357 0057 to book your FREE introductory lesson,
book a FREE assessment of your abilities, or get FREE expert advice